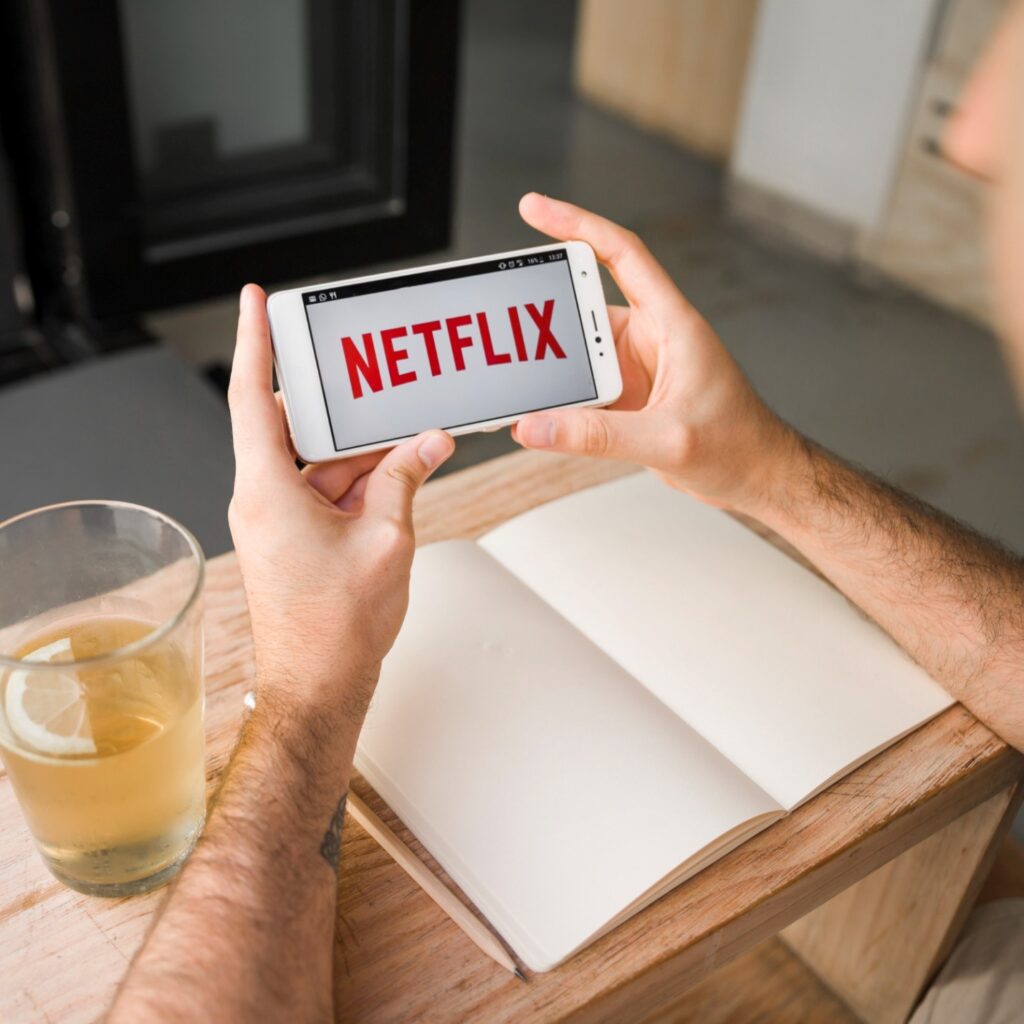 It wouldn't be wrong to say that we live in the golden age of streaming. Gone are the days when you had to clear your schedule just so you could watch X-Men: Evolution on Saturday morning.
Today, you can make any day and time Saturday morning, owing to the nearly 50 platforms available in North America alone. But is every streaming service worth your penny?
Nope.
However, there are a few, and topping that list is, no surprises here, Netflix. Currently, the streaming giant offers a comprehensive list of original animated shows worth watching.
And in this blog, we'll discuss which.
So, the next time you find yourself overwhelmed by the number of original Netflix animated shows, let this list guide your decision.
1.   Hilda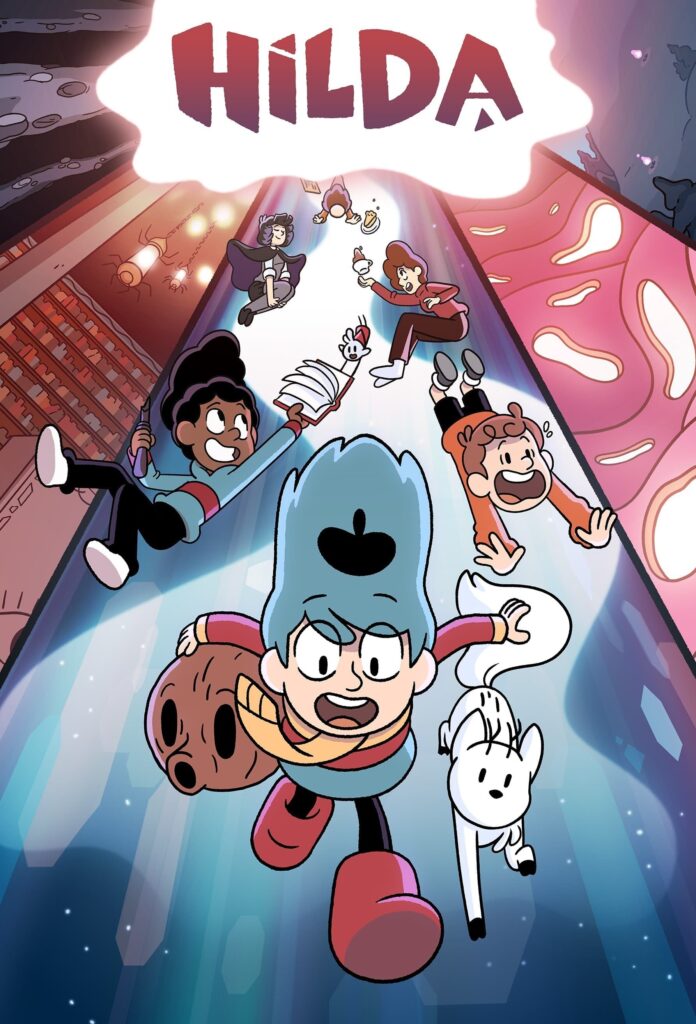 Picture Courtesy: Netflix
The Last of Us and Game of Thrones alum Bella Ramsey voices the titular character in Hilda, one of the most charming shows on Netflix.
Based on the British novel of the same name, Hilda follows a free-spirited blue-haired 11-year-old girl who leaves her enchanted home in a forest to travel to the city. Along the way, she meets all kinds of monsters, witches, elves, and other mythical creatures.
One of the reasons that make Hilda perfectly binge-worthy is that it's for kids and adults alike. And unlike most shows aimed at the juvenile audience, there are plenty of lessons in the Netflix original.
For example, most of Hilda's episodes revolve around the titular character, aided by her friends, helping the local wildlife. So, in many ways, Hilda teaches the importance of mindfully interacting with nature and those living around us.
The engrossing storyline is backed with stunning 2D animation, featuring colorful towns, scary forests, and other-worldly life forms.
2.  Carmen Sandiego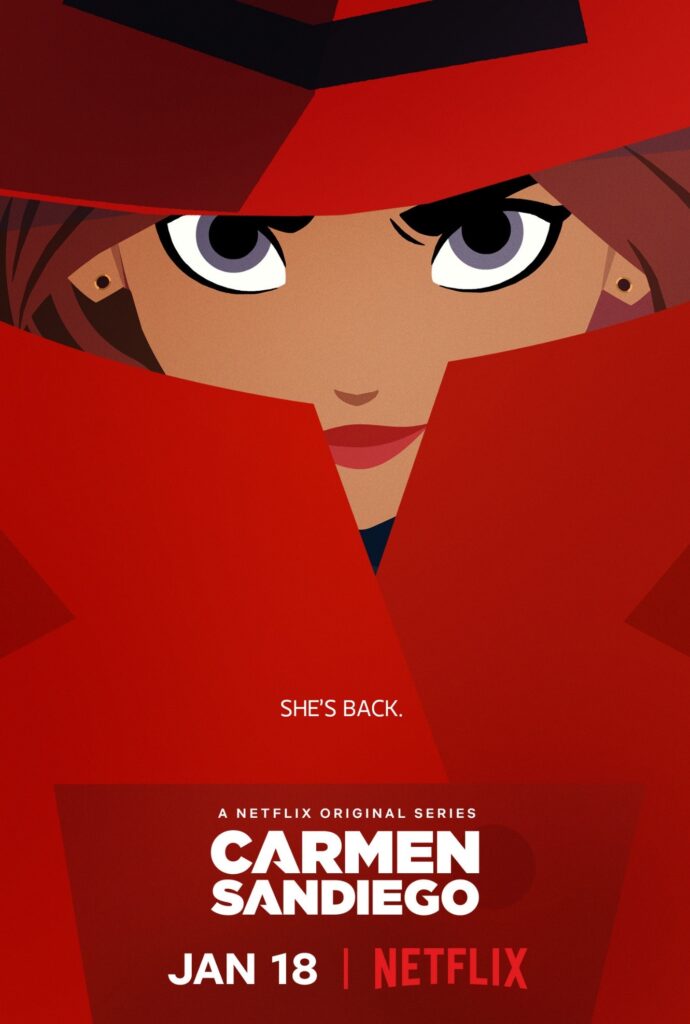 Picture Courtesy: Netflix
There have been many adaptations of Carmen Sandiego. First, there were two PBS game shows: Where in the World is Carmen Sandiego? and Where in Time is Carmen Sandiego? Then, there was a Fox-produced animated series, Where on Earth is Carmen Sandiego?
However, none were as popular as Netflix's adaptation, Carmen Sandiego. The show follows an orphan girl, Carmen Sandiego, who is found abandoned on a road in Argentina by a group of villains, collectively referred to as V.I.L.E. (Villains' International League of Evil). They adopt and train her to become a master thief.
There's a lot to like about the Netflix animated original show, but its globetrotting and educational nature takes the cake.
Carmen Sandiego travels across the world in search of stolen treasures and artifacts and, in the process, provides information about the countries.
Apart from a knowledgeable show format and stunning artwork, Carmen Sandiego benefits from an incredibly talented voice cast. Leading the charge on that front are Jane the Virgin's Gina Rodriguez and Stranger Things' Finn Wolfhard.
3.  Arcane (Arcane: League of Legends)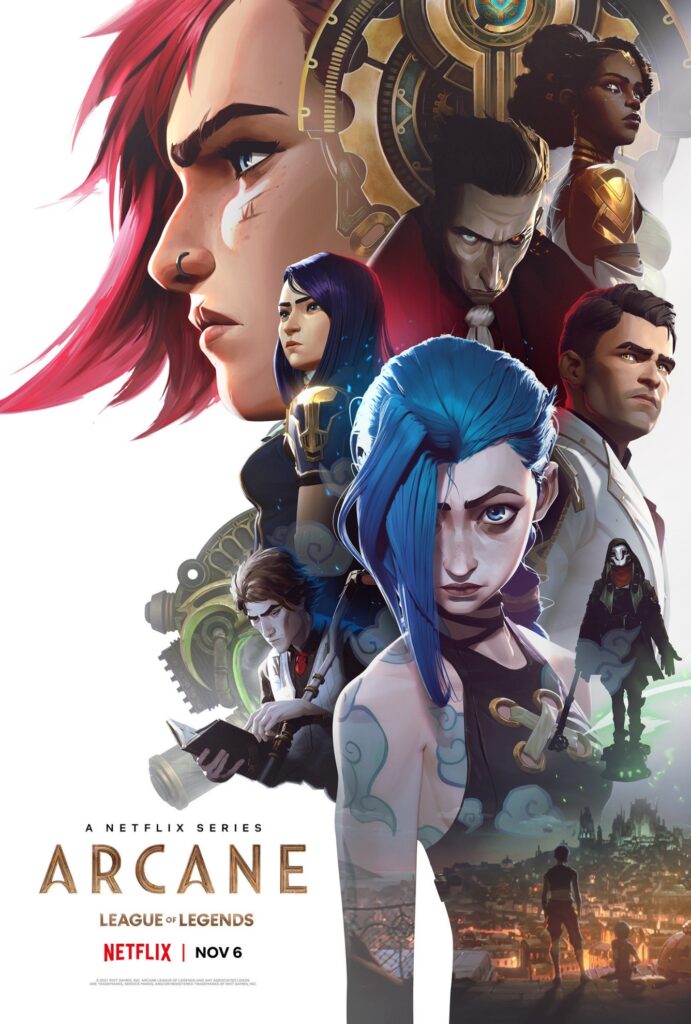 Picture Courtesy: Netflix
Adapting a super successful video game franchise into a film or series is a task only a few production studios have accomplished. Netflix, fortunately, cemented its name on that list with Arcane, based on League of Legends.
Hollywood starlets Hailee Steinfeld and Ella Purnell lend their voices to the primary characters – sisters Violet (Vi) and Powder (Jinx). They end up on two opposing sides of a war between magic and technology.
After being released in November 2021, the show gained immense popularity. Critics, as well as audiences, couldn't have enough of the show's fantastic mixture of 2D and 3D animation, soundtrack, and gripping storyline.
What especially worked was that Arcane was for everyone; fans of the game and viewers who hadn't even heard of it before. It currently has a 9/10 rating on IMDb, making it one of the highest-rated shows of all time, not just animated series.
4.  She-Ra and the Princesses of Power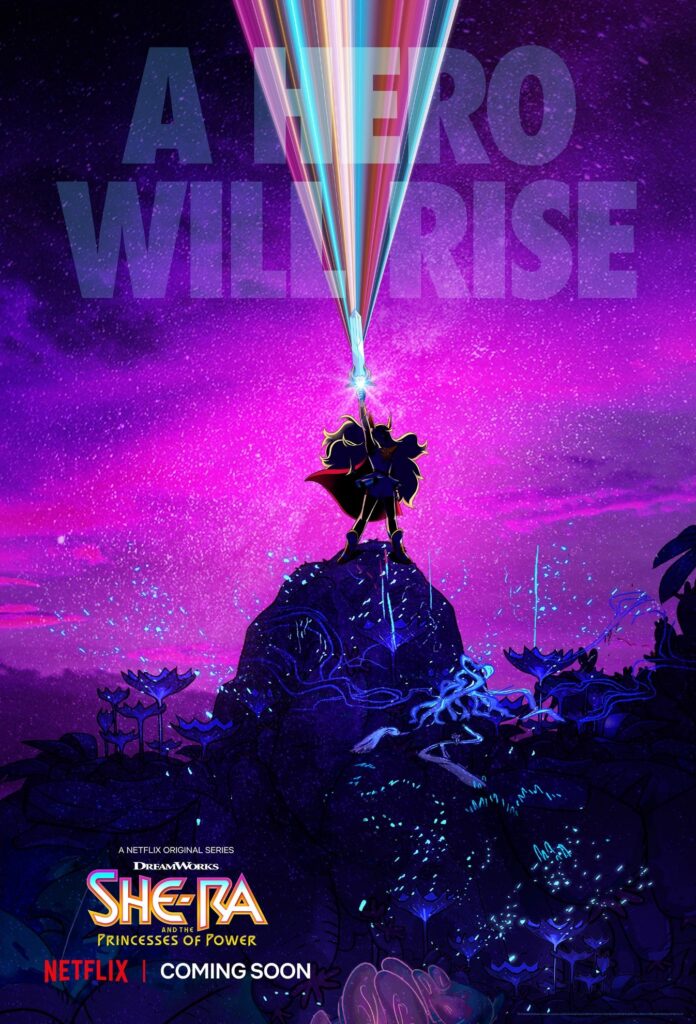 Picture Courtesy: Netflix
She-Ra and the Princesses of Power is the reboot of She-Ra: Princess of Power (1985), which itself was the spin-off of He-Man and the Masters of Universe.
Set on a fictional planet Etheria, She-Ra and the Princesses of Power follows an orphan (what is it with orphans and animated shows?!) Adora, who finds a magical sword in a forest. After lifting it, she transforms from an ordinary girl into a legendary hero, She-Ra.
Bestowed with this new responsibility, Adora uses her power to fight an evil army Horde, led by a demon Hordak. On her journey to fight Hordak, Adora is accompanied by Glimmer and Bow, a short, pink-haired girl and an archer, respectively.
She-Ra and the Princesses of Power explores many themes in addition to friendships and romances. And that's what makes it perfectly enjoyable, whether you're an adult or a 10-year-old child.
The show's occasional conflict between good and evil forces viewers to see that the world isn't all black and white. This is often displayed through Adora and Catra's (Adora's friend-turned-foe) friendship.
5.  Agent Elvis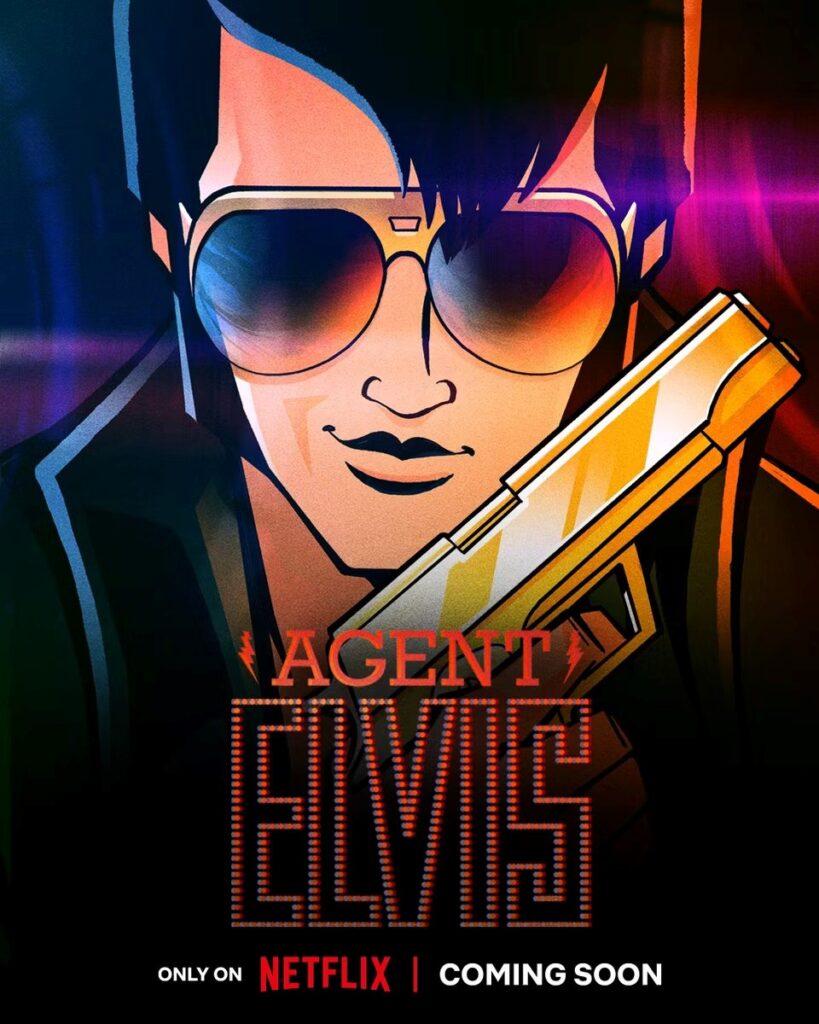 Picture Courtesy: Netflix
What if Elvis Presley wasn't a rock n' roll legend but a U.S. government agent?
This question might've never crossed your mind, but it certainly crossed Priscilla Presley's (the former wife of Elvis Presley).
Agent Elvis, co-created by Priscilla Presley, follows Elvis Presley as he swaps a guitar, bass, and piano for a golden gun. Since it's focused more toward the adult audience, it's best to hide your kids while watching Agent Elvis.
It's bloody, raunchy, and sees characters dropping the F-bombs.
However, it's all okay because the King of Rock and Roll is voiced by none other than one of Hollywood's most loved celebrities, Matthew McConaughey. But that's not the only top voice talent you can expect to hear in Agent Elvis.
Kaitlin Olson, Niecy Nash, Baz Luhrmann, Ed Helms, Christina Hendricks, and others play fictional and real characters in the show.
Moreover, the Hollywood A-List celebrity talent is backed by equally gorgeous animation. And that's understandable, considering Agent Elvis is distributed by Sony Pictures Animation. It earned rave reviews for Spider-Man: Into the Spider-Verse and its recently released sequel, Spider-Man: Across the Spider-Verse.
We've Got Your Saturday Night Binge Watching Fix Ready
These were just a few of the handful of original Netflix animated shows that caught our attention. There are plenty of more titles, including animated movies, but we'll cover them some other day.
Until then, you can binge-watch the shows mentioned in this blog and have a great time.