If you think animated movies are only for children, you clearly haven't seen this writer bawling his eyes out while watching Inside Out.
Yes, Frozen's primary audience was indeed young girls, but you're just holding a drop of the ocean. There have been many, many animated films that are enough to make a grown-up cry or laugh.
However, as much as we want to, we're not here to discuss 'The Best Animated Films of All Time' today. Instead, we'll look at things from an animator's point of view.
In other words, we'll discuss a few animated movies that serve as an endless source of inspiration for animators.
So, without further ado, let's get this party (read: film) started.
Toy Story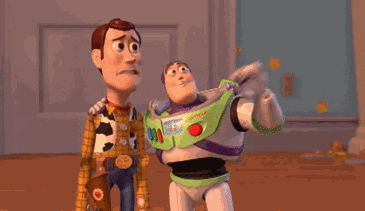 Source: Giphy
There's no way we could've started this list without mentioning the film that changed the animation industry forever – Toy Story.
Released in 1995, Toy Story followed a bunch of toys that came to life in the absence of the humans that owned them. The story was unheard of, but the movie's greatest strength was its animation quality.
At a time when studios were still experimenting with 2D animation, Disney and Pixar went three steps ahead and ushered the industry into a groundbreaking era of 3D animation.
Toy Story was the first ever film to have been entirely made by a computer.
Before Toy Story, Disney used to make hand-drawn animated films, like Snow White and the Seven Dwarfs, Dumbo, Alice in Wonderland, and so on.
Since the release of Toy Story, the studios never looked back and continued cementing their legacy with one inspiring animated movie after the other.
Shrek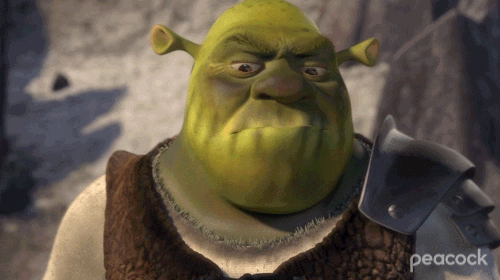 Source: Giphy
If Toy Story was everything sophisticated and decent, Shrek was the entire opposite.
It was about a crass, ugly ogre who, during the opening credits, farts while having a bath. Sorry, we didn't mean to gross you out; we just wanted to tell you about the nature of Shrek.
Apparently, though, kids and families loved Shrek so much that it grossed almost half a billion dollars.
Shrek was made using the same 3D animation techniques that made Disney and Pixar an unformidable duo. It even beat the studios' Monsters, Inc. to win the Best Animated Feature Academy Award.
The film took six sweet years to complete, owing to the technical difficulties the animators faced while making it, but they eventually mastered the technology. And well, the rest is history.
As weird as it was, Shrek is considered one of the most influential animated films of the 2000s.
Snow White and the Seven Dwarfs
Before 3D, animators used a hand-drawn technique to make videos, called cel animation. And Snow White and the Seven Dwarfs was the first feature-length film made using the same method.
The story was adapted from a German fairy tale, which, let's just say, wasn't about singing animals; instead, it was dark and twisted.
Luckily for Disney, the company's risk paid off, as Snow White and the Seven Dwarfs is considered a culturally, historically, and aesthetically significant film.
A lot went into perfecting the film's animation, which warrants an entire article. But for now, you should know that the studio developed a multiplane camera to give Snow White and the Seven Dwarfs a three-dimensional appearance.
The animators used space, time, dimensions, and movements to push the boundaries of animation while making the film.
Chicken Run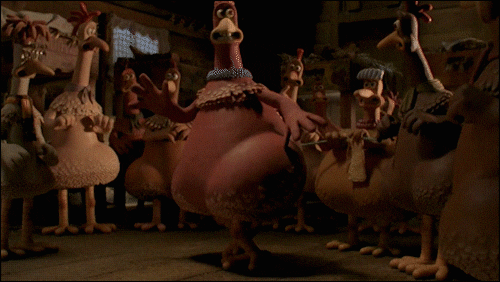 Source: Giphy
 DreamWorks Animation, the same studio that made Shrek, knew they'd need to do better if they wanted to beat their competitors Disney and Pixar. So, the company diverted the focus from computer-generated animated films to stop-motion animation films.
Stop-motion animation was different than standard animation technique. It entailed the animators capturing one frame at a time with the physical objects moved between frames.
When played at a normal speed, it appears as if all the parts are moving together.
DreamWorks Animation used the same method to make Chicken Run, a film about anthropomorphic chickens hell-bent on escaping their farm.
Since making stop-motion animated videos requires a lot of effort, around 80 animators worked on Chicken-Run. As a result, the film took approximately 1.5 years to complete.
Eventually, everything turned out just right because Chicken Run, to date, remains the highest-grossing stop-motion animated film.
Coraline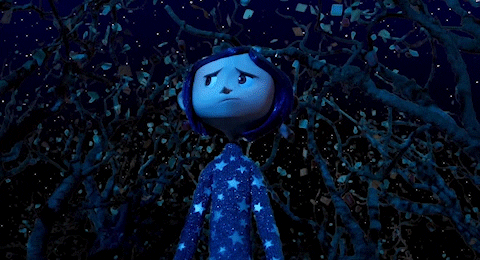 Source: Giphy
 Speaking of stop-motion animated films, Coraline is another name that deserves to be on the list. But unlike the previous title, this isn't about a band of happy-go-lucky chickens.
Instead, it follows an 11-year-old girl who comes across an identical yet creepier version of her world. Coraline had none of the colorful and vivid features you commonly see in a PG-rated animation film.
The movie had depressing themes, which must've gone over the kids' heads, but adults noticed. According to inside reports, the crew – consisting of 35 animators and 250 technicians and designers – made 90-100 seconds of the film each week.
Made on a budget of $60 million, Coraline grossed $124.6 million by the time its theatrical run concluded. That's an impressive feat, especially considering no studio was interested in financing it.
Everyone thought that a stop-motion animated film starring a female lead, no less, would not work.
But Coraline proved everyone wrong.
Take that, misogynists.
Spider-Man: Into the Spider-Verse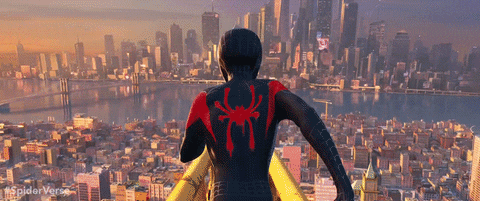 Source: Giphy
There's nothing groundbreaking about a Spider-Man film. There have been, like, 73 of them. But Spider-Man: Into the Spider-Verse is a cut above the rest.
Upon release, the movie earned critical acclaim from both fans and critics. Everyone was especially impressed by how Spider-Man: Into the Spider-Verse used a combination of computer animation and hand-drawn techniques.
Over 177 animators worked on the film; according to them, traditional comic books served as the inspiration. The animators also used Disney's 12 Principles of Animation to guide their work.
Ultimately, the team's hard work paid off; Spider-Man: Into the Spider-Verse not only grossed almost $400 million but beat Disney and Pixar's hot winning streak at the 91st Academy Awards.
Feeling Inspired Yet?
 Inspiration comes in many shapes and forms. Sometimes, it could come from an animated film you're watching with your daughter for the umpteenth time.
And if you ever find yourself short on creativity, talk to us at AnimationProLabs. We love watching animated films, but more importantly, they continuously inspire us to do better.